If you are a newbie blogger then there are chances that you might be using Ads in your blog for making money.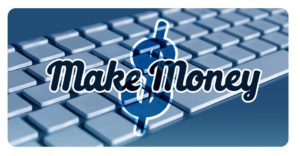 If you are not aware of the ways to make money online other than the Ads, then this blog is for you.
To earn money through Ads you need to have a lots of traffic coming to your site. With a medium or very less traffic it is very difficult for you to make decent money through Ads.
Here I am going to discuss the other ways through which you can make money even if you do not have a lots of traffic to your website. (But you should have a quality traffic)
So let's dive into them.
Write and Sell an eBook
If you are good at writing and have a very good expertise at your own niche or subject then I would suggest you to write an ebook and sell in your own website.
People are willing to read books which provide them good knowledge and add more value to their life.
That was the reason why Amazon kindle was so successful.
Even if you get very less traffic people might be interested in your ebook, if you design and promote it very well.
You can even sell ebooks in Amazon kindle and give links from your website.
Selling books in Amazon has an additional advantage, you can make use of the large traffic coming every day to Amazon kindle website.
It is upto you.
Just write an ebook and sell at what ever place you wish.
This ebook need not be of very large. Just a 3000 to 4000 words ebook can even work very well.
Tip: One best tip I can give you is to collect all your previous blog posts related to a specific category, organise them in proper order and create an ebook.
2. Affiliate Marketing
Affiliate marketing is the method of referring others products in your website.
If people buy from your reference link then you will be paid in the form of commission.
This is a very successful and most recommended form of earning money, if you cannot create your own product or service.
Here is blog post from me which will give you some tips on how to earn money from Amazon affiliate program.
3. Sell Your Product or Service
This is another great method of earning good money from your website.
Create a video course or an email course and sell it for a reasonable price.
You can even provide one-on-one personal coaching or consultation and charge on hourly basis.
Trust me, there are people who charges thousands of dollars for every hour for their service.
For example, just imagine if you charge $100 for your video course, and let's say only 10 people out of 500 people visiting your site purchased it.
Then $100 x 10 = $1000 is what you are going to earn.
Tip: It is not traffic that matters. It is the quality of traffic that matters. For example if you get a traffic of 10,000 visitors per Month and none of them are your targeted audience then it will be of no use at all.
4. Paid Reviews
Companies are willing to pay you good amount if you can write a review about their product.
But this can mostly only work for blogs which have huge traffic, but still you can give it a try if you have a quality tarffic.
5. Paid Guest Posts
Don't take me wrong. I know Google will not like guest posts which are paid and getting a backlink from paid posts.
But it is still working.
I know lots of companies which pay a huge amount for having a guest post in other websites.
They are ready to pay you and write even if you give them a "no-follow" backlink instead of a "do-follow" backlink.
So make use of this opportunity as well.
Again this might be a difficult one if your website do not have a lots of traffic.
But you can still try if you have a quality traffic.
In Conclusion
So if your blog is monetised only through Ads, then I would like you to give a try with the above ways I discussed.
Unless you try, you will not be able to know which one is working for you.
All the best.
Please feel free to ask any questions or comment about this blog in the comments section below.
Also, please share this post in your social profiles, if you really like it.