Twitter is one of the most popular social media platform bloggers use to promote their blogs.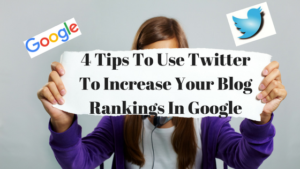 Twitter has now around 330 Million active Monthly users for now. It happened in just a span of 10 years.
It is also a true fact that Search engines will consider social media signals like number of shares, number of likes and number of comments, to rank your blog.
So in today's blog let me give you few tips on how to use Twitter effectively so that it will help to improve your blog rankings in Google or in fact in any other search engines.
So let's dive into it:
Be Active In Twitter
I know a lots of bloggers who have a Twitter account for their blog.
But the saddest part is they do not keep it active.
They just created an account for the sake of creating one and forgot about it.
There are few other bloggers who just try to share their recent blog post in Twitter and just logout.
But my question to them is, are there followers to your Twitter account who can actually read that tweet which you shared in the form of blog post?
So, in order to get benefits from your Twitter account, you should make it active.
Try following people whom you think are your targeted audience. The best way to know your targeted audience is by seeing the Twitter followers of your competitors account.
When you follow others, there are chances that most of them will follow you back.
Also along with following, you also should like and retweet others tweets which you feel are interesting and relevant to your targeted audience.
This way you will make sure that your Twitter account is active.
2. Use Tools To Help You With Your Activity
There are lots of tools which can help you with in your Twitter activity.
For example, there is a tool called ManageFlitter which I generally recommend to my readers.
ManageFlitter can you help you with the following activities which can make your Twitter activity more productive:
It has a unique interface called as PowerPost, which can help you post your tweet at the best time of the day so that it will reach to most of your audience.
It will help you to Unfollow people who are not following you back even if have followed them.
It gives you detailed analytics about your engagement with your followers.
Other than ManageFlitter there are other famous tools like Hootsuite and Buffer which can help you to automate your Tweets by scheduling them in advance.
This will make sure that your tweets are reaching your followers even when you are sleeping or in vacation.
This way you tweet more which increases you chances of getting more likes and retweets, one of the factor to get ranked in Google.
3. Run a Twitter Contest
Twitter contests are the bests way to engage with your followers and convert them in your email subscribers.
There are various types of Twitter contests you can choose from depending on your goal.
Here is a detailed guide from wishpond which can help you with conducting Twitter contests.
These kinds of Twitter contests may not be very useful for your Google rankings later as the time passes. But at least till the time your contest is running, it might useful from Google rankings.
4. Add Keywords to Your Bio
Make sure your Twitter account bio is filled completely.
Fill it with your website url and also use keywords which are relevant to your blog. This can actually help other people find you when searching for a particular keyword.
When people with similar interest follow you, then there are more chances that they will also know about the content which you are trying to share.
This can help you gain more likes and retweets, which is one of the ranking factor of Google.
Conclusion
Twitter is one of the most important social media platform which can help you with both social traffic and search engine rankings.
So make sure that you are leveraging this tool effectively.
Please do mention about your experience in using twitter in the comments section below.
See you in next blog 🙂