I am doing by best, but why am I not making money from my blog?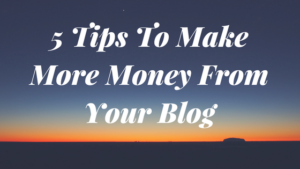 I am writing blogs from many years, but I am still not making money. What was the problem?
These are some of the questions most of the bloggers have in their mind.
There might be some times where these bloggers give up at some point, due to frustration.
But I recommend not to do that.
Yes, making money from your blog will definitely take time.
But at the same time you have to do in a very strategic way.
If you just keep writing blogs on your favorite topic and do not follow a proper strategy, then you will definitely end up with frustration.
So here in this blog I will give you few tips which can actually help you make more money from your blog.
So let's dive into those tips:
Grow an Email List
Yes, if you wanted to make money from your blog the first step you need to do is to grow your email list.
The reason behind is that every time when you publish a new blog, the first step you can do is to send the blog link to your email subscribers.
This can help you gain trust and also help you with recurring traffic.
So how do you make money from email list?
Once you gain the trust of your email subscribers, you can slowly start promoting affiliate products to them.
Trust me, they will buy.
If your email list is very large, then even if if 1% of the people buy the affiliate product then you can earn money.
The best part is – if the affiliate product which you promoted gives you recurring commission, then that's great, then you get commission to your bank account even when you sleep.
So how to collect email list?
You can start collecting emails by offering something FREE for your visitor in exchange for their email address.
It can be anything like – eBook, report, or video series.
So, start growing your email list from today and make more money.
2. Have Multiple Sources of Income
In order to make money from your blog do not depend on a single source of income.
There are many ways through which you can earn money from your blog, and try out the ones you like the most.
Here are some of the ways:
Google Adsense
Selling ebooks
Selling Audio Courses
Consulting Services
Selling video courses
So creating multiple sources of income can help you earn money in some way or the other. This will slowly boost your confidence and gives you motivation to write more for your blog.
3. Don't Be Shy To Ask for the Buy
Let's say you wanted to promote your e-books in your blog.
Then what is the best way to make your visitors buy that book? – by asking them to buy.
Never be shy to ask them to buy your book.
Tell them clearly on what can they expect and gain from the e-book and ask them to buy.
If feel shy in asking them, then there are chances they might end up buying your book.
Send email to your email list telling them about your new eBook, promote it in social media.
Don't be shy in doing.
You are not doing anything wrong. In Fact you are trying to add more value to them with the help of content present in the book.
So start asking today.
But be careful with it. Don't just keep on asking them always. It should be done in a very strategic way.
Ask them to buy only after providing some free stuff and by creating trust.
4. Write a Blog, Promoting an Affiliate Product which Solves Your Reader Problem
Choose a good affiliate product and create an epic blog post explaining in detail how that particular product can solve your readers problem.
Use lots of screenshots to make your reader understand in detail on how to use that particular product.
This way there are more chances that the reader might buy the product from your affiliate link.
Make sure that this blog which you are writing is the epic.
There are lots of blogs in the world of internet which already might have covered the topic which you are blogging about.
So to compete with them you should write in such a way that your blog is the best in the internet on that particular topic.
Brian Dean from Backlinko call this a Skyscraper Technique.
5. Concentrate More on The Source Which Bring You More Traffic
There might be lots of sources through which you might be getting traffic to your blog.
But there will always be 1 or 2 sources which will get you 80% of the traffic.
So start focusing more on that traffic source.
Because, the more traffic you get, the more money you can earn.
I know few blogs which focus completely on Pinterest as their major traffic source.
They keep most of their time in promoting Pinterest.
I remember Pareto 80 – 20 rule here.
80% of your traffic might be getting from 20% of your sources.
80% of your traffic might be getting from 20% of your sources.
Click To Tweet
So catch hold of those 20% traffic sources and spend more time there.
Make sure your blog is integrated with Google Analytics.
Google Analytics can help you in figuring out those 20% of traffic sources which gets you 80% of traffic.
Conclusion
So never go your faith of earning money from your blog.
It will for sure take some time and a lot of dedication and persistence is required for it.
Follow the strategies discussed above and stop writing blogs blindly like as if you have to write one.
All the best.
Happy earning 🙂
Please let me know if you have any questions in the comments section below, I will be very happy to answer them.
Also, if you are already earning money from your blog please mention your successful tip in the comments section, so that you can help others learn about it.
Thanks in advance 🙂
See you in next blog.