Did you ever feel difficult to get up from bed and start your day with full of confidence, passion and energy?
It happens with most of the people.
They do not feel like getting up from the bed, go to work and they feel as if they lost all their confidence they have.
They may even feel like very tired and stressed.
Do you fall in this category?
I strongly feel that the way you start your day will have strong influence for the rest of the day. If you start your day with a very positive feeling then you may feel your entire day in a positive way.
At the same time if you feel stressed, tired and have lots of negative feelings in morning then there are more chances that your entire day will be in the same way.
The main reason on why people might feel very tired and stressed in the morning is that they start their day in a very reactive state by hitting the snooze button of the alarm on every time when it rings.
They then suddenly get up after some time, rush to get ready and fill their mind with lots of stress and anxiety.
The problem is, they do it everyday.
What if you wanted to start your day in a very positive way, feeling very joyful, confident, passionate and energetic?
The solution is to to have a Morning Ritual.
This morning ritual should be in such a way that you should take control of the most important part of the day i.e the morning time.
Morning ritual should be in such a way that you should take control of the most important part…
Click To Tweet
This kind of empowering morning ritual will not only help you feel confident, but also can help you in getting good shape, earn more money and attract your ideal partner.
All this can be achieved by just following empowering morning ritual for 15 minutes or more every morning.
Lots of successful people have achieved their present position by following some kinds of morning rituals. They all have a consistency in doing their things in mornings.
Benjamin franklin has a morning ritual of waking up at 4.00 in the morning. During this time he used to think in a very positive way on what he could accomplish for the day.
Oprah Winfrey's morning ritual consists of clearing her mind with at least 20 minutes of meditation.
Tony Robbins claims that a major element of his sustained energy and focus comes from his intense and unusual morning ritual.
Arianna Huffington's morning ritual begins every morning with 30 minutes of meditation.
Virgin founder Richard Branson morning ritual consists of a swim around his island or goes kitesurfing if it's windy, then playing tennis before sitting down for a healthy breakfast.
Bill Gates, Founder of Microsoft,  starts off his morning ritual taking care of his body by spending an hour on the treadmill, while feeding his mind by watching courses from the Teaching Company while doing so.
So if you are still facing trouble on how to effectively design your morning ritual then I would recommend you to register for a 7-Day Morning Ritual Training Program that will help you create, implement and make the habit of an empowering morning ritual in your life. This program is called as:
Morning Ritual Mastery designed by Stefan Pylarinos.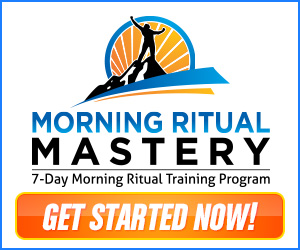 In this Morning Ritual Mastery program, Stefan will share how you can model the most successful morning rituals of the happiest and most successful people in the world so that you can create a morning ritual that produces a similar result.
Over 7 Days, he will help you implement these rituals Into your life, for your Body, Mind And Spirit, so that you can have an extraordinary day and an extraordinary life.
And more than that, this program is not just to help you do a morning ritual for 7 days, but for the rest of your life.
Stefan designed the program to help ensure that this new morning ritual that you'll create will be a lasting, permanent part of your life that will produce the quality of life that you want.
The program consists of daily video lessons, downloadable mp3 audios and worksheets that you can go through every day for the next 7 days, which you'll have immediate access to in a secured members area.
So, are you ready to take your life to the next level?